Camp @ Home is an initiative for our camp community by our camp community. We want to champion families with endless, kid-friendly activities and resources, so you can bring the camp experience right into your home.
Last modified: September 26, 2020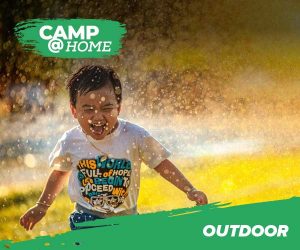 "MORNING DIP" CHALLENGE
Wake up! It's time to run outside and go for a morning dip! We're challenging kids to recreate the fond camp memory of "jumping in the lake" first thing in the morning or after a hot and sunny day in the comforts of their home. Cock-a-doodle-doo, morning dipperoonies. Who's up for the challenge?
Join the Challenge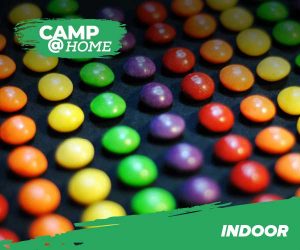 WACKY SCIENCE: RAINBOW SKITTLES EXPERIMENT
A beautiful colourful display meets a wacky science experiment! Fun for all ages (adults included), this experiment combines water with your leftover Skittles candy to create a surreal rainbow swirl. With endless pattern variations, this simple activity is the quickest way to captivate your kids.
See the Rainbow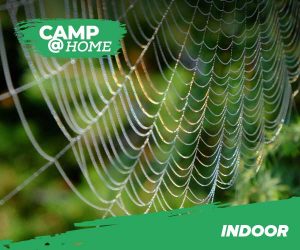 STICKY SPIDER WEB GAME
Practice your aim with this sticky spider web activity! Perfect for indoor play, this game can be set up in any doorway or narrow hallway. Your kids will have a blast throwing newspaper "flies" at a web of sticky strands made out of painter's tape. See if they can catch any!
Catch Some Flies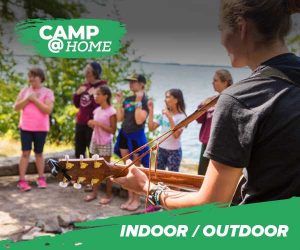 THE VOICE: CAMP EDITION CHALLENGE
Just because we are all stuck at home doesn't mean that we can't sing & cheer together! We're inviting all of our campers to join "The Voice: Camp Edition". Simply film a performance of your favourite camp song or cheer and wow us with your creative renditions. Don't forget to share your videos with us!
Join The Challenge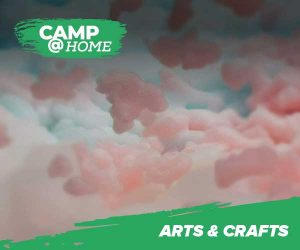 WACKY SCIENCE: ELEPHANT TOOTHPASTE
Bring out your inner chemist and recreate this super-sized, wacky science experiment! Water, oxygen gas and soap create an expansive foam that looks just like a giant squeeze of toothpaste. For older kids, take the opportunity to review the chemical reaction and the science behind the scenes.
Try at Home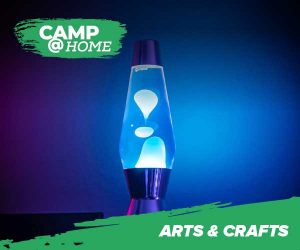 DIY LAVA LAMP
Have a flair for the 60s? Bring this colourful and hypnotic lava lamp to life in the comforts of your home! A quick mix of cooking oil, food colouring and an Alka-seltezr tablet is all you need for this simple DIY. This attention-grabbing experiment is sure to be a household favourite.
Mix It Up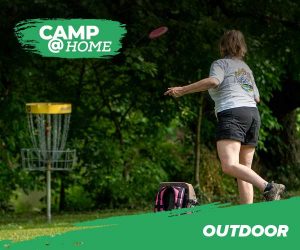 DIY FRISBEE GOLF AT HOME
Who knew that throwing a flying disc around could be so much fun? We're challenging our campers and their families to play a round or two of a popular camp favourite. See who can earn bragging rights to declare themselves the "Ultimate Frisbee Golfer" of the house - or at least until the next game!
Play Frisbee Golf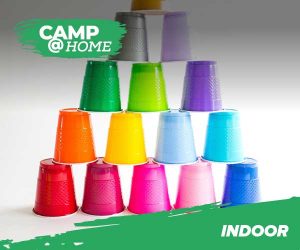 RED CUP STEM CHALLENGE
STEM challenges are a great way for kids to develop thinking skills and creativity! This Red Cup STEM Challenge is an easy DIY activity that encourages the whole family to play together. All you need are a few cups, a small toy, and a couple of everyday household items to get crackin'!
Start Building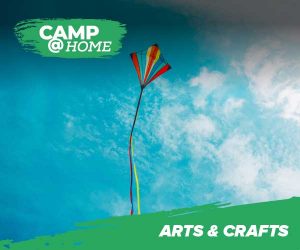 MAKE YOUR OWN FABRIC KITE
With fall right around the corner, the days are cooling down and the breeze is picking up! Take look at this super easy DIY Fabric Kite for Kids to take your backyard activities to new heights. All it takes is nine easy steps, and you're on your way to making new, fun and lasting memories.
Get Flying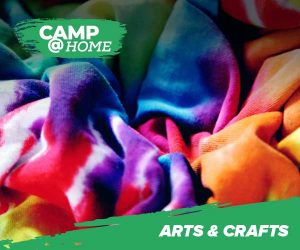 TIE DYE 101
Tie dye is a camp favourite - and always in style! This is your 101 guide on prepping, tying, dyeing and washing these colourful and eclectic patterns. It's the perfect activity for campers, creatives and fashionistas alike. Get scrunching and sporting your own tye dye creations!
Learn To Tie Dye